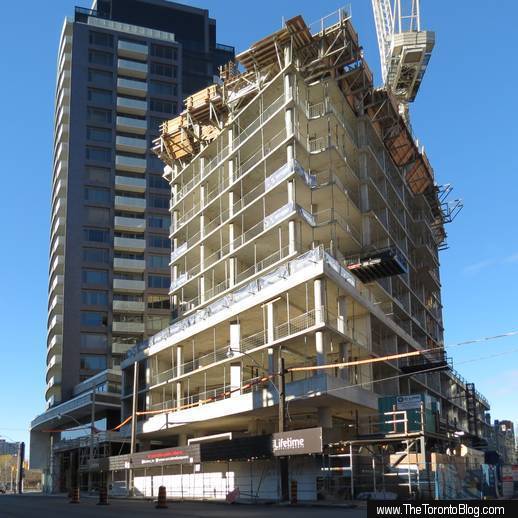 November 19 2013: A view of construction progress on The Yorkville Condominiums, rising at the corner of Davenport Road and McMurrich Street
Climbing higher: Reconstruction of the Davenport Road & Bay Street intersection isn't the only distraction for motorists driving through Yorkville these days — construction of The Yorkville Condominiums tower is changing the look and feel of the landscape, too.
Work on the building's concrete frame has passed the 10 floor mark, bringing the structure nearly one-third of the way to its 31-storey final floorcount. Even with completion still a long ways off, the building already exerts a strong presence on Davenport Road, and is drawing some attention away from The Florian, a recently-finished condominium right next door to the west.
A project of Lifetime Developments, The Yorkville Condominiums was designed by Toronto's Wallman Architects. The 233-suite project includes tower suites as well as six luxury townhomes along the McMurrich Street side of the property. The building interiors have been designed by Tomas Pearce Interior Design Consulting Inc., and renderings of their work for The Yorkville can be viewed on the firm's website.
More photos of The Yorkville can be seen on page 2 of this post and in The Yorkville Condominiums album on thetorontoblog.com's Flickr page.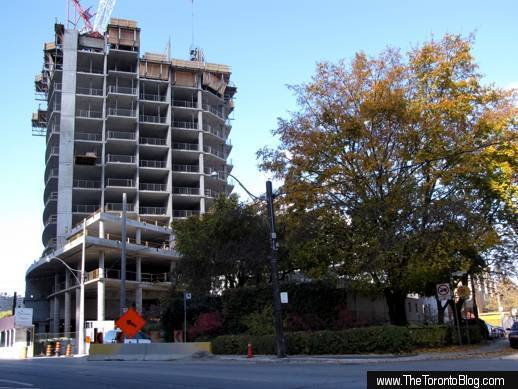 This was how The Yorkville Condominiums site appeared only three years ago (November 1 2010, to be precise), before construction had commenced. The Florian condo tower next door was just halfway up, and several low-rise buildings still occupied The Yorkville's prime corner site. Those buildings had formerly housed offices for the firm of Moriyama and Teshima Architects.
CONTINUED ON PAGE 2