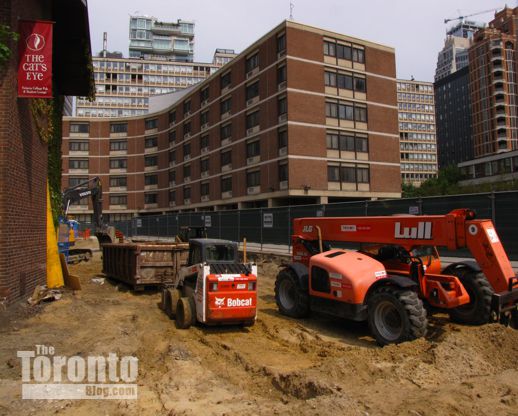 August 14 2011: Excavation was still in early stages when I shot this photo just two and a half months after the official groundbreaking for the Goldring Student Centre at Victoria University on the University of Toronto campus …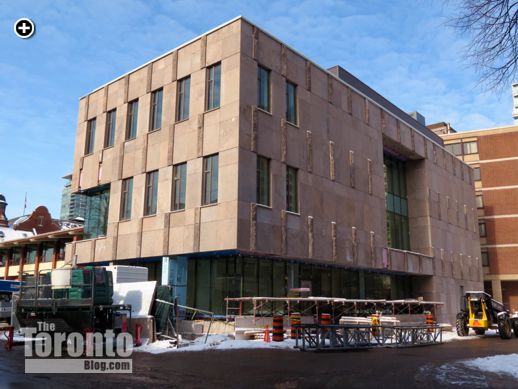 … today, 1.5 years later, construction crews have nearly finished applying stone cladding to the exterior of the 3-storey structure on Charles Street West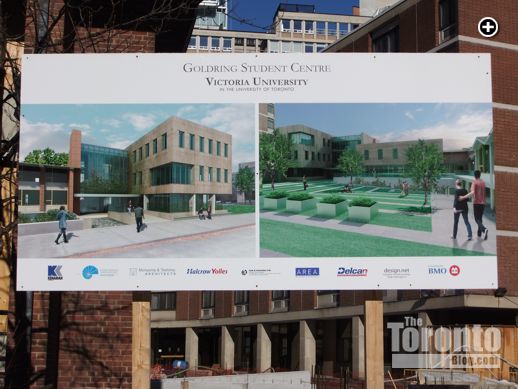 Architectural illustrations on a billboard at the construction site show how the new Goldring Student Centre and its landscaped quad will look when complete. The building was designed by Toronto's Moriyama & Teshima Architects. 
Looking good: A new student social centre and meeting facility is shaping into a handsome addition to the Charles Street landscape on the Victoria University campus at U of T.
As installation of exterior stone cladding nears completion at the Goldring Student Centre, the 3-storey building already looks completely at home in its surroundings, fitting in well with the McKinsey and Company building next door and the Isabel Bader Theatre across the street — both of which also boast attractive stone finishes. I love the look of both those buildings, and think the new Goldring Student Centre nicely complements its neighbours and enhances the streetscape along Charles West.
CONTINUED ON PAGE 2