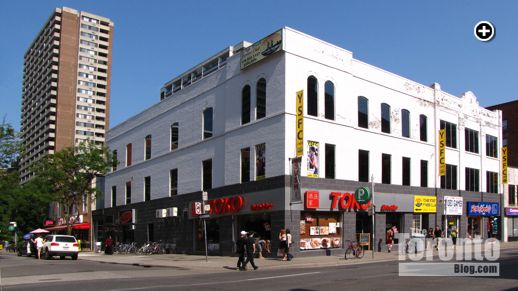 A development application has been filed with the City for this 625 Yonge Street property at the southeast corner of Yonge & Isabella Streets. The proposal calls for a 40-storey residential tower with retail shops and offices to take its place.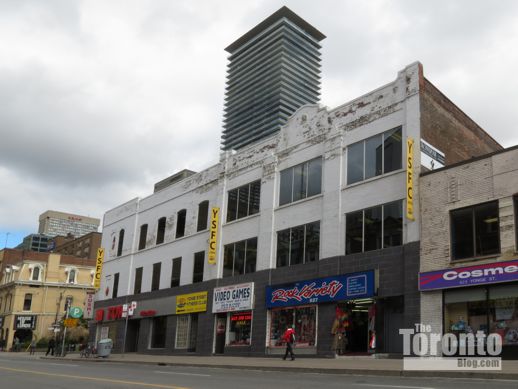 October 10 2012: The 625 Yonge building, viewed from the southwest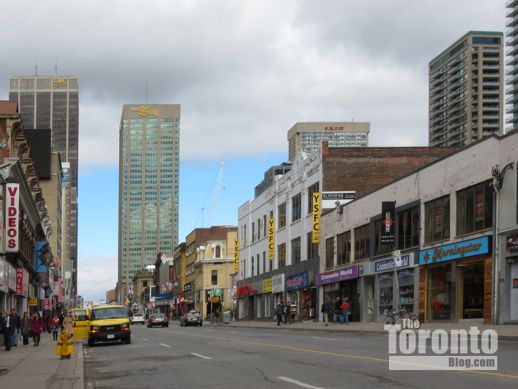 October 10 2012: Looking north on Yonge from Irwin Street. The 625 Yonge development site (white building with the yellow and black YSFC banners) has the cachet of being situated only three blocks south of the prime Yonge & Bloor intersection.
Condos on the corner: News that a rezoning application had been filed with the city for a commercial property on the corner of Yonge and Isabella Streets left the nearby neighbourhood rife with rumours and speculation yesterday about what is in store for the site. Not surprisingly, most people expected an announcement would be forthcoming that a condo  tower project is being proposed.
Word spread quickly that an entry for 625 Yonge Street had been added to the development projects page in the planning department section of the City of Toronto website. For most of the day, the website entry listed only the municipal address for the development application, its file number, and contact details for the city planner responsible for the file. It did not provide any specifics about how big or how tall the development would be, or whether it would be condos, offices, retail or a mix of all three. The absence of further information led to considerable conjecture about the owner's plans for the property. (When I checked the entry late yesterday afternoon, it still lacked details; this morning, someone called my attention to additional information that finally had been added sometime during the evening.)
CONTINUED ON PAGE 2