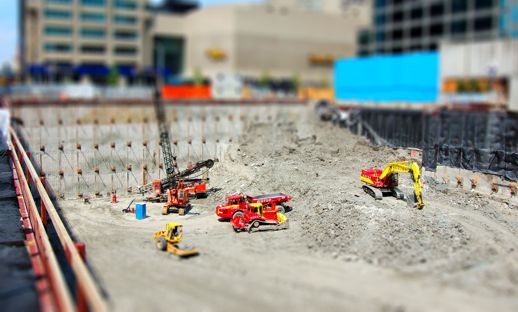 May 12 2012: Excavation activity at the One Bloor condo site. Photo by Doug Lewis Images.
Condo sandbox: Nobody has figured out how to turn back time yet, but this week some Toronto construction photos by Doug Lewis Images managed to instantly take me back to a summer during my childhood. The images — real photos made to look miniature — captured excavation activity during May and June at the One Bloor condo tower construction site. The second I saw them, I remembered playing "construction" with other kids in my neighbourhood, moving dirt around a sandbox with our die-cast Dinky® and Corgi® toy backhoes and dumptrucks.
Although I can't remember what my buddies and I may have been trying to build way back then, it could well have been skyscrapers. But they would have been office buildings, not condo towers with 70-plus stories, like One Bloor. Those didn't exist yet; in fact, neither did the CN Tower, the Toronto-Dominion Centre or Toronto's new City Hall, for that matter.
Below are three more photos showing Doug Lewis's unique miniature perspective of excavation work at the One Bloor site on June 1. (See the post below for a separate update on the One Bloor condo tower project.)
If you have photos of Toronto-area buildings and construction activity you'd like me to consider publishing in my new "Through another lens" feature, drop me a line. My email is: torontoblogeditor@gmail.com.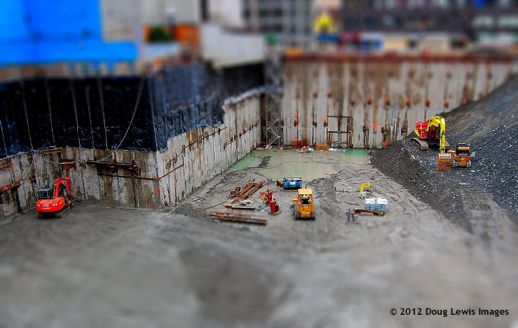 June 1 2012: One Bloor condo tower excavation activity viewed from Bloor Street to the north. Photo by Doug Lewis Images.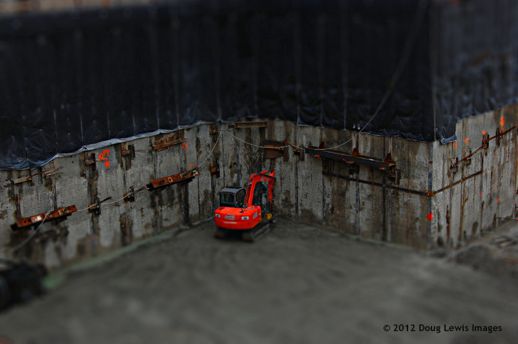 June 1 2012: An excavator works near the northeast corner of the excavation site, below the Xerox building at 33 Bloor St. East. Photo by Doug Lewis Images.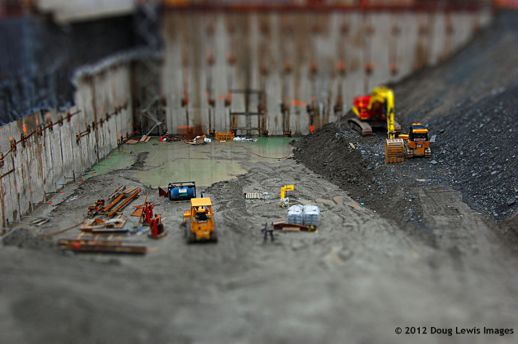 June 1 2012: The pit's southeast corner below Hayden Street. Photo by Doug Lewis Images.