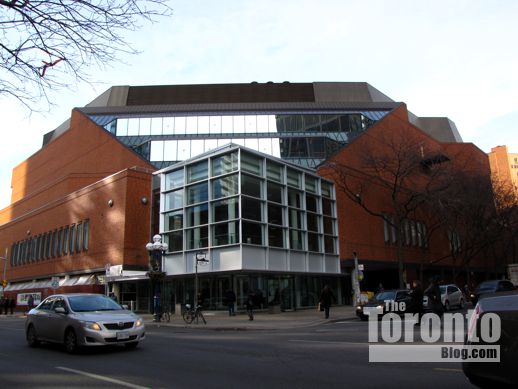 January 11 2012: The new entrance to the Toronto Reference Library, at the corner of Yonge Street and Asquith Avenue, opened in December …
… well over a year after construction of the3-storey glass and steel cube structure commenced. The entrance area is seen here on November 11 2010, several weeks after work started as part of a $34-million building revitalization project.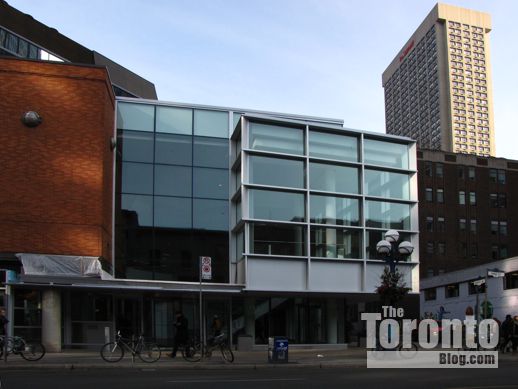 Entrance seen from west side of Yonge Street on January 11 2012 …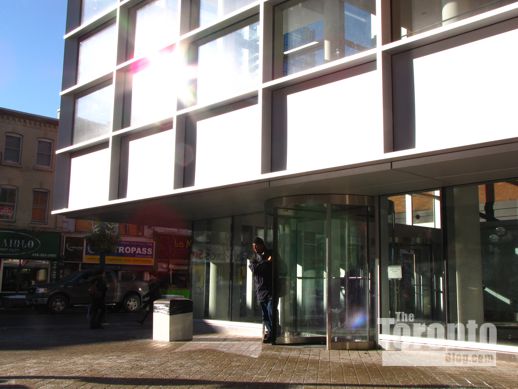 … and from Asquith Avenue on January 21 2012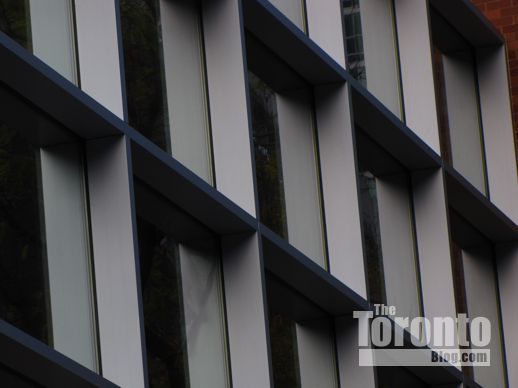 The large rectangular windows on the north and west sides of the cube …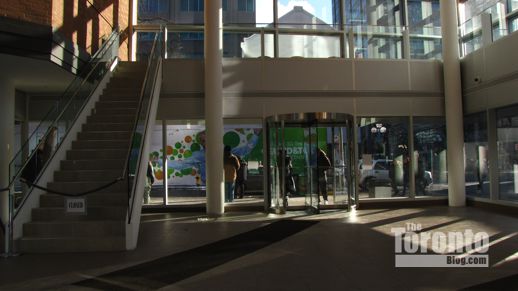 … ensure that the spacious entrance area is airy and bright …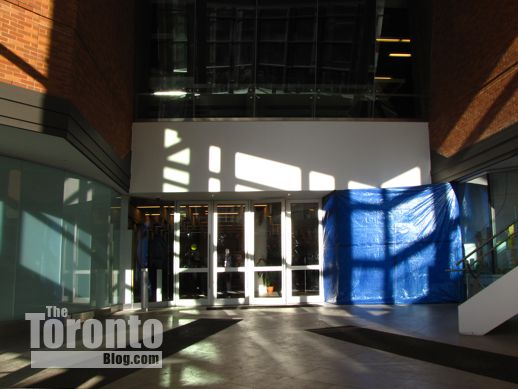 … but some work remains to be completed on the interior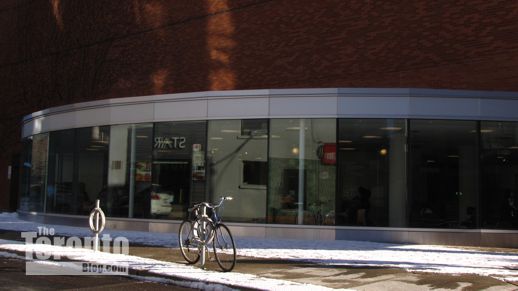 A crescent-shaped window brightens a reading room located at the library's northwest corner, overlooking Yonge and Collier Streets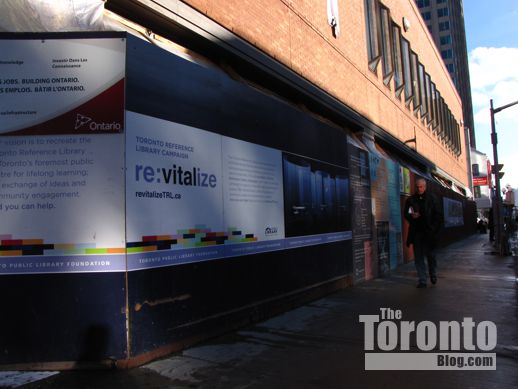 As of last week, however, the library's sidewalk-level facade along Yonge Street was still under construction. Windows running the length of the building will eventually provide a visual connection between the interior and the street.
Doors open: They had to wait well over a year, but visitors can now enter the Toronto Reference Library in Yorkville through a bright and airy new entrance at the corner of Yonge Street and Asquith Avenue.
The 3-storey glass and steel entrance cube, designed by Toronto's Moriyama & Teshima architects, opened for public use in December, though some finishing touches remain to be done on its interior.
As I reported in a January 27 2011 post, the new entrance was created as part of ambitious $34-million, 5-year revitalization project intended to create "a dynamic interface between the library and its community, connecting the library's interior more directly to the street, and the public to the services inside."
The spacious, sunny cube certainly achieves that goal, as does a curved row of windows that brightens a reading lounge situated at the northwest corner of the building, overlooking Yonge and Collier Streets.
As of last weekend, which was the last time I passed by the library, construction work still had not been completed on a stretch of new street-level windows along the building's Yonge Street facade. Once they're installed and the hoarding along the sidewalk has been removed, passersby should notice an immense improvement to the library's look as well as the streetscape.
Designed by Raymond Moriyama, the reference library opened on November 2, 1977. The revitalization design is the work of Raymond's son, Ajon.
Below is a photo from the library website, showing how the entrance looked prior to the commencement of the revitalization project. It's followed by a Moriyama & Teshima rendering that shows the new cube entry and glass-walled facade next to the Yonge Street sidewalk.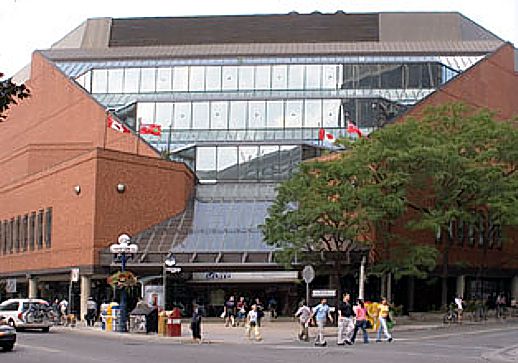 This image from the Toronto Reference Library webpage shows how the building entrance looked before the new entrance cube was added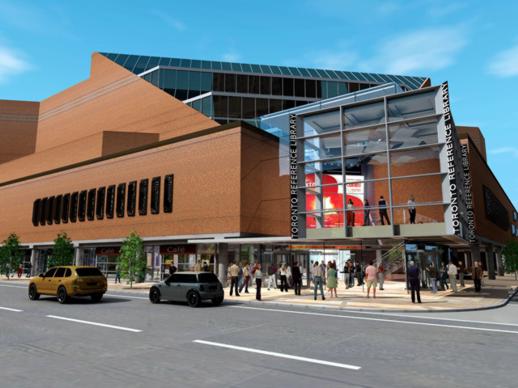 Architectural illustration by Moriyama & Teshima architects of the Toronto Reference Library building revitalization enhancements
 >