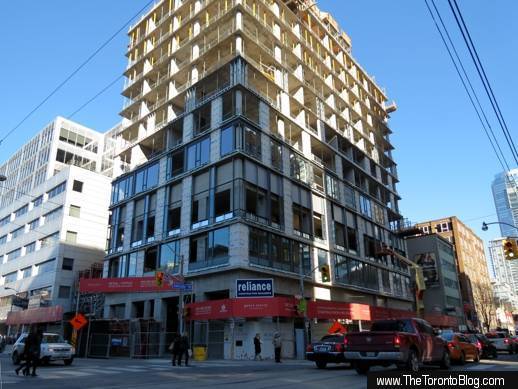 November 14 2013: Construction has reached the 12th floor of Peter Street Condominiums at the northeast corner of Adelaide and Peter Streets …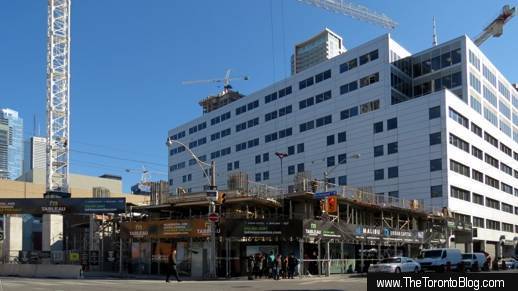 … while at the opposite end of the same block, the ground level of Tableau Condos continues to take shape at Peter & Richmond Streets. The two condo towers will bookend the 9-story office building that sits in the middle of the block at 111 Peter Street.
One block, two towers: The east side of Peter Street between Richmond and Adelaide Streets is changing dramatically as construction continues to progress on two new condominium towers that will also transform the Entertainment District skyline and streetscapes in the process.
At the southeast corner of Peter and Adelaide, work on the Peter Street Condominium tower has climbed above the 11th level, bringing the building nearly one-third of the way to its ultimate 40-storey floorcount.
Just a few meters north, at the corner of Peter and Richmond, construction is progressing on the ground level of Tableau Condos, a 36-storey tower that will stand atop a distinctive table-shaped podium supported by long, tall column "legs."
Artistic illustrations of both buildings, along with construction progress photos shot this week, can be viewed on page 2 of this post.
CONTINUED ON PAGE 2