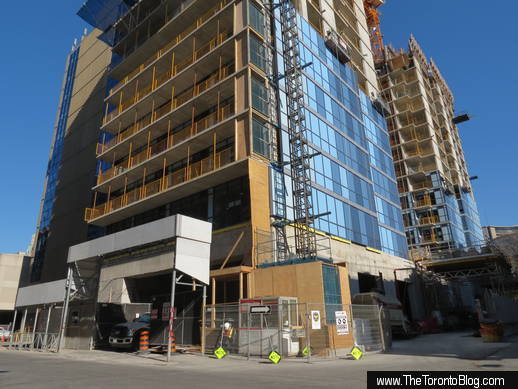 November 14 2013: A view of the No. 210 Residences on Simcoe condo tower at the corner of St Patrick Street and Michael Sweet Avenue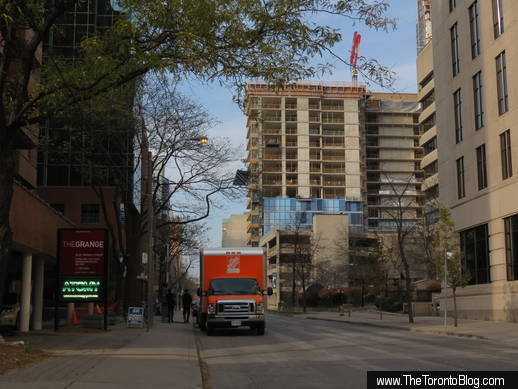 November 16 2013: As glass panels gradually get installed on higher floors, the colourful facade of the No. 210 Residences on Simcoe condominium highrise is really starting to stand out in the Grange area of downtown Toronto. This is a view of the building from half a block to the south, on St Patrick Street.
Shades of blue: It's amazing to see how one colourful new condo highrise can brighten an entire neighbourhood and quickly improve the look and feel of a dreary street in the process.
The eastern section of Toronto's Grange neighbourhood — in particular, the area bordered by Dundas Street to the north, St Patrick Street to the west, Queen Street to the south, and University Avenue to the east — has long been a dull landscape of brown brick and beige concrete buildings. 
Michael Sweet Avenue, a 1-block-long cross street in the middle of this zone, was anything but sweet. Until recently, two unsightly parking garages extended the full length of the avenue between St Patrick and Simcoe Streets, one on each side of the road.
A 5-level above-ground parking garage still occupies the entire south side of the street. Though its concrete walls aren't solid, it's still a hulking, dark and drab-looking structure that looms large above adjacent sidewalks.
Two windowless walls used to dominate the north side of the street. One, its dirty white paint peeling off, was part of a narrow, low-rise parking facility built next to the sidewalk. Rising 54 meters behind it — roughly the height of a 14-storey residential highrise — was the solid textured wall of a Bell Canada utility building.  Thanks to the unattractive blank walls and the pair of parking garages, Michael Sweet Avenue has never been a pleasant pedestrian environment, but only a convenient way to move between Simcoe and St Patrick Streets. Functional, but ugly.
But all of that is quickly changing as construction continues on the No. 210 Residences on Simcoe condo building.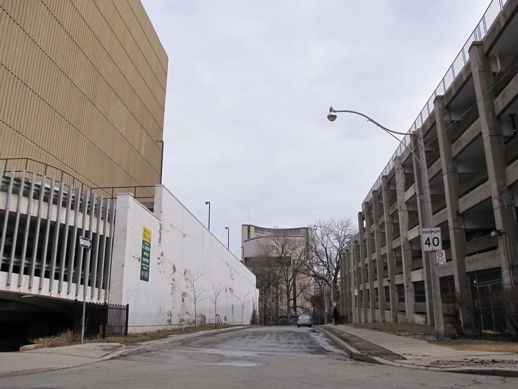 February 18 2011: The view from St Patrick Street, looking east along Michael Sweet Avenue. At left is the future 210 Simcoe condo site — at this time still a low-rise parking garage that extends all the way to Simcoe Street. Beside it is a Bell Canada building at 220 Simcoe. On the right is a 5-level above-ground parking garage that also extends all the way to Simcoe Street. Toronto City Hall, located just a few blocks to the east east, is visible in the background.
CONTINUED ON PAGE 2